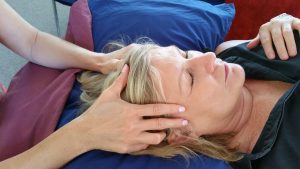 Access Bars
The Bars are 32 bars of energy that run through and around your head that connect to different aspects of your life. We call all of the points you touch when using this modality "The Bars." The Bars store the electromagnetic component of all the thoughts, ideas, attitudes, decisions and beliefs that you have ever had about anything.
Chiropractor: Dr Carol Langley.
Carol assists in creating your perfect posture. She is dedicated to helping others heal. Carol calls on 21 years of practice and uses a variety of tools, based on what your perfect body needs, whether that is chiropractic, (gentle, traditional, Network, Impulse Adjusting instrument), Cranial Release Technique (CRT), or hands-on energy healing.
Crystal Bowls: Immersing ourselves in the amazing sound vibrations of crystal bowls is like being in another dimension of reality where light and love embrace you effortlessly while we are grounded to the energy of earth. A deeply relaxing transforming experience that takes you into the place you call peace.

Yoga: A regular Yoga practice helps keep us healthy, creates flexibility in our body and mind and will allow us to remain clear headed and focused in todays busy world. Christine is a dedicated senior Iyengar teacher with over 35 years experience, she teaches students of all levels from beginners to experienced.